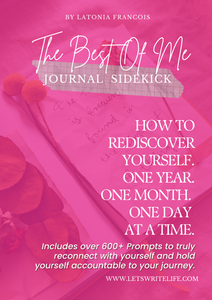 The Best of Me Sidekick "Rediscover Yourself: One year. One month. One Day at a time." Includes over 650+Prompts to truly reconnect with yourself and hold yourself accountable to your self-discovery journey. Best used alongside "The Best of Me" Journal .
Ready To Rediscover Yourself? Join the email list and receive your FREE Download of "The Best of Me" Journal Sidekick. Build a positive habit of journaling that empowers you to unplug from life to reconnect yourself. PLUS: Receive Bonus Access To An Exclusive Masterclass To Learn Journaling with Latonia.
Start your journey here!
Disclaimer: By downloading this complimentary ebook, you agree to join our email list.